May 26, 2020
COVID-19: Community rugby league to enter 'Prepare to Play' period, training to re-commence.
May 26, 2020
On Friday, May 29, New Zealand Rugby League will enter the 'Prepare to Play' phase for a minimum of three weeks, in light of yesterday's announcement that gathering numbers permitted for grassroots sport will increase to 100 people come lunchtime Friday.
During the 'Prepare to Play' phase, rugby league contact and non-contact training is permitted only for clubs that can abide by the Government health and safety and gathering requirements.
Competition rugby league remains postponed during this three-week 'Prepare to Play' period as NZRL in liaison with the Zones and Districts aim to re-commence with competition rugby league on Saturday, June 20 (subject to change).
It is important to note the further three-week postponement of competitive rugby league provides time for players to condition their bodies from light training through to full contact, minimising risk of injury after a long hiatus, as player safety remains paramount.
NZRL also stresses the fact that clubs should not rush to return to training if they are not ready and continue to use this 'Prepare to Play' period to properly ensure their facility can abide by all mandatory health requirements.
These requirements include what 'must' be done such as contact tracing, physical distancing and hygiene and sanitation measures. Clubs will be provided with a checklist and supporting information to assist with the required return to play planning.
The 'Prepare to Play' period is the second phase of a three-phased approach return to rugby league; Get Ready, Prepare to Play and Return to Play. This approach is based on the Government recommendation of a considered return to community sport.
NZRL in liaison with the Zones and Districts will provide further update over the next three weeks regarding the final 'Return to Play' phase.
We thank you all for your continued understanding during this time and look forward to seeing our rugby league communities safely return to the field again soon.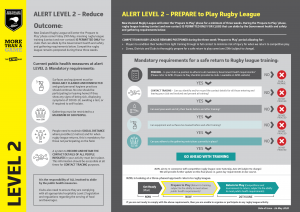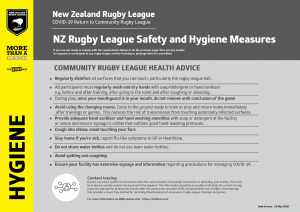 NZRL COVID-19 Level 2 Prepare to Play Checklist
NZRL has developed the prepare to play rugby league checklist below to support clubs to prioritise and assist the safe delivery of rugby league for participants and supporters.
Club checklist_prepare to play – print version
CONTACT TRACING
Contact tracing protocols MUST be in place and able to be accessed quickly for all participants and spectators before we resume rugby league training and competition.
Contact tracing is the identification of individuals that have come into contact with people who have been diagnosed with COVID-19, and it is a fundamental precaution taken against the spread of the virus in the community.
REQUIREMENTS OF RUGBY LEAGUE CLUBS
Rugby league clubs who are able to open at Alert Level 2 will be required to maintain a register of participants and spectators to assist the Ministry of Health's efforts at contact tracing.
The register
can be hard copy (see template below) or electronic
MUST record all individuals who have visited your facility.
MUST include the following information for each individual: Date, Time, Full name, Address, Phone & Email addresses.
Guidance issued by the Ministry of Health requires:
that these details should be kept for four weeks
the information collected may only be used for the purpose of contact tracing at the request of the Ministry of Health or local district health boards.
Care should be taken in the maintenance of the guest register, with the following issues being addressed:
Transparency: Individuals must be made aware of the reason for the register, and what will happen to the information.  It is suggested that the following wording be used:
"This information is being collected to assist in the management of the COVID-19 pandemic. It will be given to the Ministry of Health and/or the District Health Board on request in the event that it is required for contact tracing purposes. We will not use it for any other purpose, and will destroy it after four weeks. It will be kept here at [name of the establishment]. You have a right to access and correct any information we hold about you."
Security: Keep the information safe, in a locked area and think about how to prevent individuals seeing the information provided by others on the register, e.g. could you cover the others' details when later individuals sign in?
Retention and disposal: Securely dispose of the register after four weeks.  Do not just throw it in the bin.
Use: The sole purpose of the register is for contact tracing.  Do not use the information for any other purpose, such as building your mailing list.
Disclosure: Do not give the register to other parties, or let individuals flick through it.
ELECTRONIC REGISTER: NZRL recommends IDMe, a web app that provides a touch-free method for recording the attendance of all people at rugby league trainings and games. IDMe avoids traditional sign-in methods such as a Guest Book (paper/pen) or touchscreen iPad since people don't want to touch a surface that others have touched. Also, traditional sign-in methods are normally not appropriate for facilities, events, or games where a number of people may congregate within a relatively short space of time, since they can cause queues and delay access.
See IDMe's website http://id.idme.co.nz/about for more information – it's free for ALL New Zealand sports organisations.
TRAINING
All players, team staff and supporters who attend training will
need to contact trace using one of the methods outlined above.
Ensure that you have a system for contact tracing that works for your facility and organisation before training commences e.g. each team manager is responsible for checking in players, team staff and supporters who attend training.
GAME DAY
All players and team staff will use online team sheets in LeagueNet as their method of contact tracing on game days.  Click here for support note on how to enter team sheets or here to watch a recorded webinar.
Supporters who access your facility, including fields and clubrooms,
MUST use one of the methods outlined above.
Ensure that you have a system for contact tracing that works for your facility and organisation before play commences e.g. a COVID champion is identified in each team and helps their team's supporters check in. Could your "be a sport" ambassador do this?
Should there be a suspected or confirmed COVID-19 case among someone who visited your facility, you should contact Healthline's dedicated COVID-19 hotline on 0800 358 5453.  Health authorities will then decide whether to contact anyone else linked to the suspected or confirmed case.
If you need any further details or have any further queries regarding contact tracing and the Privacy Act 1993 please contact the Privacy Commissioner on 0800 803 909 (Monday to Friday, 10am to 3pm).
NZRL_Contact Tracing FORM – print version
POSTERS FOR CLUBS
https://covid19.govt.nz/resources/posters/