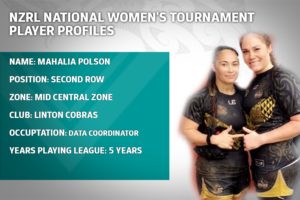 Why do you play league?
I love the physical challenge the game offers and the people I play with.
What got you into the game? 
My first introduction to league was when I was six playing for my uncles' team.  After my first season we ended up moving north there was no comp for kids, so I ended up playing rugby instead.
How long have you been playing for? 
I've been playing women's for around 5 years
What do you do outside of league?
I'm a mum of two, I work for a Maori Charitable Trust, Te Tihi o Ruahine Whanau Ora Navigation Alliance.  I dabble in a few other sports rugby, touch and I like to do a bit of CrossFit and boxing as well.
What are your biggest highlights or proudest moments?
Watching my 11yr old daughter Emerald play league, she is profoundly deaf and wears cochlear implants, shes amazing!. Winning the Wellington Women's League Comp with my friends.  Winning this year's Manawatu women's rugby club comp with my club Kia Toa.
What advice would you give to young girls wanting to get into league?
Give it a go!…you'll love it.
What are your goals? 
To stay injury-free and make semi-finals for nationals
What are you looking forward to most about the National Women's Tournament? 
Playing with my mates!