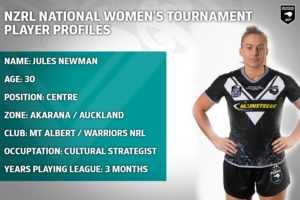 Why do you play league? 
My bread and butter was actually in Rugby Union, and I decided to venture over to Rugby League this year because I wanted to learn a new code, meet new people, test my capabilities both skill and character to truly see whether I had what it took to play professionally.
What got you into the game?
Funnily enough, it was through current Kiwi Fern and Warriors representative Georgia Hale and also former Kiwi Fern Alex Cook that planted the seed so I put my hand up to give league a go. I played Rugby Union both 15s and 17s with Georgia & Alex and over the years they had dropped the idea here and there, now it's really happening.
What are some of the biggest challenges you've faced when it comes to playing league?
There are quite a few challenges that I have to face in Rugby League. In terms of the game itself; when you've only ever played one sport it can be extremely difficult changing your mindset to fit the code. Everything I have been taught in Rugby Union has basically gone out the door. For example, Learning new terminology, style of running, running lines, strategy of play and new techniques – especially around tackling & playing the ball.
To illustrate how green I am to league I didn't know what "markers" were and that you had to roll the ball between your legs with your foot. Having to remind myself to get back 10m on defence and that you don't form rucks at a breakdown or form mauls whilst only have six tackles is mentally challenging to break those behaviours.
From where I started to now, I am utterly thankful for the support and guidance from Victor Heke, my coach and mentor, and I'm especially grateful to my teammates from Mt Albert Rugby League Club. I have learnt so much and been embraced by them as though I was their family member. This has immensely helped me to become comfortable in the game and showcase what I am capable of.
Because I've only been in Rugby League for a few months and have been given the highest accolade to represent the Warriors in NRL and also New Zealand means another big challenge is actually having to learn the game at sprint rather than picking up things over seasons in which generally happens.
What advice would you give to young girls wanting to get into league?
I would encourage them to jump in with both feet, even if you're scared because I'm an adult and I still get scared of the unknown. The best part about trying something new is that you can say you've done it. It's a really brave thing to put yourself into a new environment with new people and for me, I've been blessed with a whole new group of friends that are now family, I've learnt new skills and found a true love for Rugby League.
So take a deep breath, be brave and jump in with both feet.
What's your occupation?
Cultural Strategist in an IT Firm
What does this entail?
My role involves looking at user behaviours within organisations in order to better implement technology. My drive for what I do is about people. In my eyes, the most important thing in this world is people and as the demand for technology continues to increase, I believe we need to keep people at the forefront of our priorities.
Furthermore, I am also designing alongside my Aunt, an App that requires a large portion of time and energy.
How long have you been doing this?
4.5 years at V-dito
What got you into it?
Family. I studied psychology and I ended up falling into the role. I knew nothing about technology but I do understand human behaviour.
What do you love most about it?
There are two things: Firstly, helping my family prosper financially. Secondly, working with people because I genuinely care about putting people first through empathy, authenticity and logic.
By incorporating both of these means, I am theoretically in my dream job.
Do you find balancing your job and rugby league difficult? If so, why?
The challenges I face in regards to my career is that I work 24/7. With my Rugby League timetable and requirements, I can work remotely, but it doesn't mean work stops. Whether I'm on my cellphone or laptop, I am connected at all times. People don't necessarily understand why I do what I do, and to me that's fine. Why I work so hard is because the business I work for is a family business so the biggest motivator for me is my family. We've come a less than fortunate place and for me, we aren't going back. In my eyes, if our business is successful, my entire family prospers.
Nothing means more to me than making my family proud and with me playing and training at the highest level possible in league and working to feed the business; it is a privilege. I continuously pinch myself to see if I'm dreaming.
What's your professional goal?
My professional goal is to eventually start my own business.
What's your rugby league goal?
I want to silence the naysayers and prove that through hard work, you can achieve great things. I don't have the Kalyn Ponga flare or a crazy Benji Marshall whack, but I have an insane work ethic.
I've had four ACL reconstructions on my right knee (the last one was 2017) I was told that I would never be able to play a pivoting sport again and at that point, I decided what my body is capable of doing and through that mentality and never give up attitude that has got me onto this platform.
I'm a firm believer that we are the decider of what we can and cannot do. 
This year, the National Women's Tournament will take place Friday 26th – Sunday 28th July at Pulman Park, Auckland.